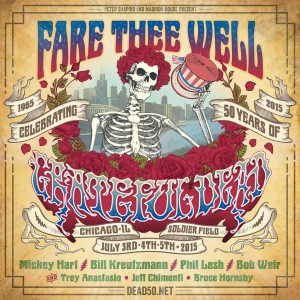 As the disappointment of losing the Fare Thee Well TicketMaster battle weighs on my heart I can only take solace in my experiences in this scene over the past 22 years. From the 15 year old who put on his brand new Liquid Blue and had his mom drop him off on the lot of a Grateful Dead show at Freedom Hall in Louisville, KY on June 16, 1993 to the bass player of a band who has had the privilege of playing on the same bills as Bob Weir and Billy Kreutzmann. Everything in between has made for one beautiful life, but that fateful day in '93 put me on the path I still travel today.
Instantly I fell in love with the scene, the beautiful people, the painted busses, the artwork and craftsmanship on the Shakedown, I had stepped into another world as an alien teenager who didn't know the language and could only decipher the body movements to know what was going on. I went into the show early to find my friends and their parents and we walked around the stadium taking it all in. When we approached the back of the stage, below us was Jerry talking with some of the staff and I yelled down his name and waved. He looked up and smiled then carried on with his conversation.
We then found our seats and waited for the show to start. The music was all new to me, I only recognized two of the cover songs as none of the others had been on the two cassette tapes I owned "Skeletons from the Closet" and "American Beauty." The one that stuck in my mind and carried me through many lot scenes to come was the anthem that will carry me until July – "I Need a Miracle." When that beginning riff kicked in after Space, the Stadium erupted and everyone joined in the chorus. It was a magical moment that I still carry with me. The show ended with "Good Lovin" and they encored with "I Fought the Law and the Law Won" due to the countless arrests that occurred over the two day run that I still have the newspaper clippings from.
Looking back at the show I realize my innocence. It was the first show I taped as I had wanted to know as much as I could about the Dead before going into it so I read a lot and somewhere I found out it was ok to record their shows. So I brought along my mom's tape recorder that she used for note taking at school and had it in my pocket recording the whole time. It wasn't the best quality but that tape got some use.
It was a different time and that show eluded me for years, I tried my best to trade those "Maxell XL-II"'s for a copy but it was nowhere to be had. Now I can just hop on over to archive.org to find it. Listening to that show recently, I was surprised to hear how many of my favorites they played, "Cold Rain and Snow", "Brown Eyed Women", "Stella Blue", "Foolish Heart", "Ramble On Rose", and so many more. I still feel lucky that I got to see them before Jerry Passed.
As I said that show was a crossroad for me, that led me down the path to this beautiful scene that encompasses so many bands these days. Since I couldn't hop on Dead tour, I hopped on Phish tour with a few friends. We traveled the nation going to upwards of 50 shows and again I count myself lucky to have been part of some great musical experiences. From there I found Moe., String Cheese Incident, The Disco Biscuits, STS9, and Umphrey's McGee and watched them all go from playing to a handful of people to selling out Amphitheaters. I also found some older groups like Widespread Panic and went to many Dead related shows such as the Furthur Festival, Ratdog, Phil and Friends, Mikey Heart, Merl Saunders, and went on a little Other Ones tour that ended at Shoreline of Bill Graham's own design (It looks like a Steal Your Face from above). All of the bands listed I have seen numerous times now and they are all part of one great music scene.
So I go back to playing my current anthem "I Need a Miracle" and hope that I get a chance to see two of my favorite bands collide in a city that has been such a large part of my life. At this point I have to put as much faith as possible into getting those tickets as I have no more reason to go than anyone else, I don't deserve to be there more than anyone else, I am just one person who is part of this large community that all want the same thing, to have a good time with friends new and old while listening to some grate music.
There is nothing left to do but smile, smile, smile 🙂